Twenty-four-year-old pretty P, light-skinned, slender and ever fashionable; grew up with her six younger siblings and both parents.  Even so, P's childhood was hardly a tranquil setting. "Only her mother," the lovely young woman said, "cared for the children like a parent." The family lived in Luwero, the site of a brutal uprising by National Resistance Army to the government of Milton Obote, where thousands of people died during the early 1980s.
But it was alcohol, not an uprising, that was the major culprit behind her parents' discord. The father, a "drunkard" and a practicing witch doctor, would often come home late at night inebriated. In his drunken state, he beat the children and his wife with a stick. From as early as six, P remembers watching her father physically and mentally abuse her mother. Sometimes the kids would try to defend their mother. When they did he would kick the children away.
No one was spared the witch doctor's wrath. The tyrant would often wake the children from sleep to tend the fires in his shrine and worship houses. Many times, he also had them take part in his witching ceremonies. The mother had "small hand skills like making mats," which she worked at to get money for her children. Her husband demanded that she hand over her money so that he could go and drink. If she refused, he would again apply the stick.
Father and daughter have had no communication since her mother died in 2016. The extraordinary story of how young P's mother's life ended is uniquely African. A family feud caused the woman's death. It started when P's father quarreled with his sister, who was angry that he would not let her worship at the family shrine because "she would bring in bad spirits". Apparently, there are degrees of bad spirits in the world of witchcraft. In retribution, the angry sister went to another shrine and cursed her brother. His protective spirits were stronger than his sister's curse so her malevolence passed on to his wife or so the story goes.
As the story of P's mother's death was translated for me by Peace, I watched P's highly passionate gesticulations. Her voice rose and fell with emotion as she told this remarkable tale. Her mother went to fetch her cows from their grazing place and saw (I am assuming here) a vision of a human body with a mango head. Since she was married to a witch doctor, she apparently thought there was witchcraft afoot, so she said nothing. Her son purported to have seen the same vision shared what he saw with his mother. She cautioned him to be silent and not mention it again. As the two made their way home, the woman fell to the ground with a back injury. P's mother's belief was so strong in the power of witchcraft, she never recovered, despite the application of home remedies and later hospitalization. She wasted away and died in the hospital just three weeks after being admitted.
Thank goodness the lovely P didn't succumb to the witch doctor's wrath and thrives regardless of it and other trauma that have befallen her.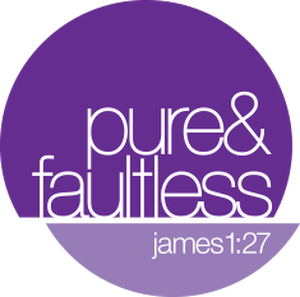 We strive to be the hands and feet of Jesus to a broken world which has roughly
200 million orphans crying out for help. Pure & Faultless connects with those
believers who are already in the country where the needs exist. Through God's grace
and your assistance, we help those who help them!
DONATE NOW!
---