The girl is tall and lanky like a basketball player though I don't think she has ever been inclined toward athletics. Linette looms large over the other girls at Rahab's Corner. Despite not even close to being chubby, she is the exemplar of fat for her mates.  When a body that isn't exactly proportioned in a typical Ugandan teenage shape begs a description like Linette comes next.  That she doesn't quite fit in might be the story of lanky Linette.
Our first interview took place the day before the summer school term started. The two of us sat in the kitchen as Lynette told me the story of her life in one sentence that lasted thirty-five minutes. Punctuation is important, I now know, for more than just clear writing. At some point in a narrative, written or spoken, you have to breathe and possibly take stock before forging ahead to the next thought. My head spun as the girl lead me through hairpin emotions and rounded stumbling blocks that would bring lessers to their knees.
Kivulu slum is Linette's birthplace. She is the second generation born in this slum. Though she has never seen her father, she's heard a story that the father of her three older siblings chased her dad away when he discovered that the daughter purported to be his was the other man's.
In the midst of a quarrel, the mother shouted that her latest baby was another man's. The father took his first two children away immediately, leaving the third, now that the boy's parentage was in question. So incensed, he wouldn't allow these two children of his to visit their mother. Since their father was a thug who hung out in the slums with gun-toting friends, they only occasionally were able to slip away to visit.
The three children born after Linette says, "have their own fathers."Although none of them know who they are. After her mother's death, the children's father took them away so she rarely sees these siblings. Only hearsay connects her to a tribe – another tragedy of poverty.
She punctuated her story with a Ugandan habit of asking what? for emphasis, then answering the what in the same sentence (in Lynette's case, everything was in the same sentence). As a way of an example, It did what? — it rained. For my first few days in Africa, I  blurted out the answer, unaware of the trope. Every so often, she did punctuate her history with a high pitched eeeeh for emphasis, sounding as if she was commenting on her own narrative. But, I believe it is a Ugandan exclamation point.
During my stay with the girls, the rare times I saw anything close to disagreeable behavior, Linette appeared smack dab in the middle. I'm surprised that she elicited such responses from her fellows. She was perfectly delightful to me despite her punctuational indifference.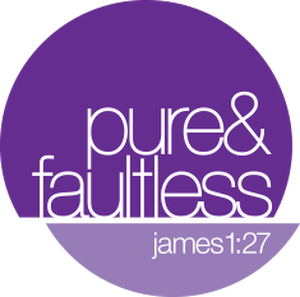 We strive to be the hands and feet of Jesus to a broken world which has roughly
200 million orphans crying out for help. Pure & Faultless connects with those
believers who are already in the country where the needs exist. Through God's grace
and your assistance, we help those who help them!
DONATE NOW!
---