Momma Deb, a student so bright and clever, she won a scholarship to the esteemed Makerere University Business School one of the oldest and most prestigious universities in Africa according to their Facebook page. With as much pain and disappointment as she as bubbled up in the telling of her story, she must have been the apple of her father's eye, and relished pleasing him. Consequently, failing to meet her parent's severe standards proved all the more poignant.
Eager to pursue a business degree, Momma Deb and her no doubt delighted father (a head teacher) journeyed to Kampala from their town of Fort Portal. Unfortunately, the two missed out on a vital bit of information when registering at the university. She had failed to sign up for the government-sponsored student housing. By the time she recognized her error,  registration had closed. There was no more room in the small dormitory. Due of this oversight on both their parts, her whole life took a decided turn.
A small stipend of three hundred thousand shillings ($81.27) a semester for off-campus housing was all the scholarship offered. This meager sum hardly covered hostel fees much less transportation to and from school and food, certainly not enough money to live.
The scholarship was such a relief to her teacher father. Now that his first-born had been awarded government funding for her education, he refused to believe the money she received was not enough to provide for all her needs. Stubbornly the father spurned his daughter's requests for additional financial help leaving her often so bereft of funds that she was unable to attend classes for lack of transportation. He heaped condemnations on her for her lack of effort saying, "She was playing too much and ignoring her studies."
Because she didn't have money to get to class, she flunked a paper bringing her GPA to a perilous point. Knowing she wouldn't be able to advance to the next level without improving the grade, she asked her father again for help to the tune of 600,000 shillings ($162.53). He refused pleading an inability to pay despite the fact that just a year previously he had paid much more for her secondary education. As we talked she began to weep saying, "She felt stranded, and angry with her father. I knew he had the money." When I asked if she had been able to forgive him she answered tearfully, "No."
With no support from home Momma Deb ultimately gave up her dream and was forced to drop out of school for her inability to attend. The father, disappointed in his daughter's perceived misbehavior, disowned his eldest. Sobbing she said, "He thought I failed because I wasn't concentrating." She sniffled, "He thought I was hanging with friends and not giving much time to my studies."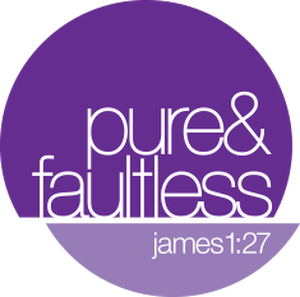 We strive to be the hands and feet of Jesus to a broken world which has roughly
200 million orphans crying out for help. Pure & Faultless connects with those
believers who are already in the country where the needs exist. Through God's grace
and your assistance, we help those who help them!
DONATE NOW!
---