Seventeen-year-old Justine has beautiful light brown skin, close-cropped hair that looks so good on her, it makes you think you might give it a try, too. Don't. She's one of that kind of girl everything looks like a million bucks on her with the perfect shape to wear anything head to toe. You might think that is lucky for her, but all she wanted was to go to school.
Her father died when she was an infant. As far as she can remember her aunts raised her in their village, a suburb of Kampala. Her mother was unable to afford to keep her. The beleaguered mother of six struggled to send a little money to help pay Justine's school fees. School plays an important part in this bright girl's life. The inability to keep up with her education defines the traumas she has endured.
Life seemed secure for the young child until Mama Justine and her sisters had a conflict. The nature of the falling out is unknown to Justine. She only knows it necessitated her mother fetching her at around nine-years-old, as she was just starting P4, and taking her to Kampala to live. Despite being happy in the village, she was eager to live with her mother since she never had as far as she knew. After completing the first term of primary four, the rift between the sisters healed. Mom sent her daughter back to the village again. The back and forth in schools made keeping up with her classwork difficult. Justine failed to pass primary four. Because of this, her mother, who now had a new husband, took her daughter back again to the school in Kampala.
The next three years proved a relatively stable time for Justine as she advanced to primary seven. In the interim, her mother gave birth to her sister Miriam. For reasons again unknown to Justine, her mother and Miriam's father separated leaving the two girls with the mother.
Most teenagers the world over have moments when their mother embarrass them. Most mothers stop at just being an embarrassment to their teenage daughters'. Mama Justine gave her daughter many reasons to feel ashamed. She has a problem with alcohol and is a prostitute. Hard to know which of the afflictions came first. The woman can barely keep food on the table and a roof over her two daughter's heads.
She has tried her hand at selling food in a hotel in the slum and sold charcoal. At one period when Justine attended school, her mother took her younger sister out at night. Justine was left home. Interested in what transpired on those night outings, she asked her little sister, Miriam. The child said that her mother left her in the street and told her to beg for enough money to pay Justine's school fee while she went looking for men. When I asked her why she was left behind she started to cry. Fifteen at the time, Justine thinks her mother left her home because she didn't want to see the disrespect the girl felt for her elder.
Those tears indicated the shame she feels for her mother and the guilt for feeling the shame. In the course of our interview, whenever we touched on the anger, judgment, and hurt she directed at her parent, tears started to flow.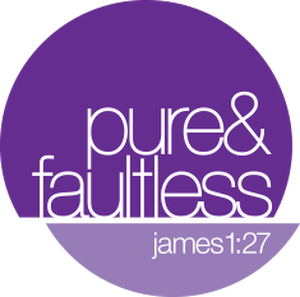 We strive to be the hands and feet of Jesus to a broken world which has roughly
200 million orphans crying out for help. Pure & Faultless connects with those
believers who are already in the country where the needs exist. Through God's grace
and your assistance, we help those who help them!
DONATE NOW!
---