Life started for S. in the Kivulu slum near downtown Kampala where eighty percent of the households live in abject poverty. This list of lacks included clean, fresh water; food; healthcare; education; clothing; and shelter. Cleaning up in Kampala is desperately needed, to say the least.
The population of Kivulu slum is overwhelmingly woman and children.  S's family was no exception. Men, such as the one who fathered S., frequently avail themselves of the women who live in the slum, forced by their dire circumstances to either sell their bodies or die. When children are involved, whatever choice there may have been, evaporates. What option do you have? Can a mother just watch her children starve?
Almost a teenager and a resident of Rahab's Corner for the last three years, S. worked with her mother, Scovia, cleaning and sweeping five kilometers of Kampala Road in the center of the city. With two self-supplied, locally made sisal brooms in both gloved hands, Scovia dressed in the KCCA issue Dayglo green vest cleaned the street to just behind S.'s sometimes primary school every day from four in the morning until seven.
The ungloved child went ahead of her mother with another broom picking refuse up with her bare hands while her brother followed his mother doing the same. The Kampala City Council Authority slow to pay policy created a constant cash flow issue for the family.
After the street sweeping shift ended assuming if the school fees were current the two children went home where the three younger children lay sleeping. Se fixed breakfast if there was something to fix and readied her siblings for school while her mother cleaned for five Indian families accepting payment in food, milk, chapatti, cooked rice and sometimes money.
It is a little wonder that the haggard woman often relied on alcohol to cope. As is so often the case drinking exacerbated
the stress creating even more problems for the family. Being the eldest girl, whenever the mother wasn't able to perform her maternal duties the jobs fell to S. despite her tender age. You might think that having the responsibility of caring for your younger siblings foisted on you receiving a baby doll of her own would seem silly. It was anything but, as you can see from the picture above.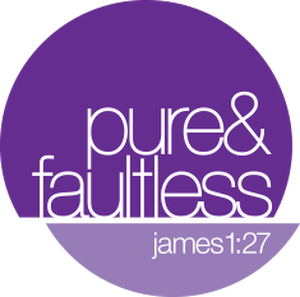 We strive to be the hands and feet of Jesus to a broken world which has roughly
200 million orphans crying out for help. Pure & Faultless connects with those
believers who are already in the country where the needs exist. Through God's grace
and your assistance, we help those who help them!
DONATE NOW!
---